Medicare Office Policy
We have one of the best facilities providing excellent care to help senior and elderly patients. Instrument adjustment is the most safe technique for any older patients and/or patients having had surgeries. Unfortunately, Medicare cannot be expected to resolve the costs of truly getting better. Costs for treating extremity joint dysfunction (knees, shoulders, jaws, feet, etc.) and its accompanying pain are not covered in any fashion, and yet we, as chiropractors, could help with these very common senior complaints.

LIMITATIONS OF CARE
Crafton Chiropractic has Medicare aged patients. We accept these patients upon the recommendation from a friend or family member who is a our current patient. Always, however, the Medicare patient has been misinformed regarding chiropractic coverage. They just have not covered essential professional chiropractic activities, such as exams, x-rays, and therapies. From our perspective, it is not considered as "safe and professional" to give treatment without requiring diagnostic tests, extremity manipulations (as needed), thorough exams, and supportive modalities. These services must be paid for and cannot be given away. Medicare requires us to pass these costs unto the patient. It's better to sign the Medicare Waiver/Advance Beneficiary Notice (ABN) under Option 2 each year, and elect not use Medicare at our office. The retail insurance costs for these services may be handled by a good private carrier, but are not reimbursed, in any manner, by Medicare. The expected chiropractic charges will be stated on the form, and you can elect to not have your claim sent or "not to use Medicare at our office."

WHAT IF I REFUSE SIGN AN ABN, BUT I WANT USE ONLY SOME OF THE ITEMS OR SERVICES ANYWAY? DON'T I HAVE THE RIGHT TO PICK AND CHOOSE. THEY WILL COST TOO MUCH. MY OTHER CHIROPRACTOR DID NOT REQUIRE THEM.


Yes, but the provider may decide not to provide the items or services under these circumstances. The provider is released from accepting you as a patient.

"Although Medicare may not pay for your item or services, there may be reasons for your physician (chiropractor) to recommend them," states the Mayo Clinic on its ABN guidelines, called the "Medicare Waiver."

THE PROVIDER HAS YOU SIGN OPTION 2
1. To give you the option of receiving in-house basic care at Self Pay.
2. To elect Occasional Care, rather than a strict Plan of Care
3. To release the provider from the insurer's guidelines related to compliance for Active Treatment (AT)
4. To save you from certain provider costs not covered by Medicare

All our Medicare aged patients have elected Self Pay status, and, most often, receive basic care chiropractic as occasional patients. Since we only file full care with insurance, Medicare patients just will not bear the costs of these full services. These full care services must be paid upfront whether they are expected from a supplemental carrier or secondary insurer.


This is the case since we are rarely paid as you would expect from the insurer, rarely paid by the patient after being denied, and it takes months to resolve. We can elect to refuse to start care with any one patient who wants us to use their insurance but refuses all that is required by that insurer to be considered compliant and abiding by a formal plan of care directed by the doctor. If a claim goes to any insurer, the doctor must believe it is "medically necessary". We do not accept other doctors' occasional patients or any occasional patients for insurance billing; we may elect to see them as Self Pay. You must agree to our plan of care if you require claims to be filed with any insurer.

All Medicare people must consider out of pocket participation. We have been doing this since January 1, 2017; ironically, we actually have more Medicare people using our services than before. We have to consider whether we can expand on those who qualify for Self Pay fees with the ever increasing population who do not have health insurance options that will pay for the visit when they want. Currently, we can file directly with Blue Cross Advantage programs under many limitations and restrictions, and I have seen this system change dramatically over the last ten years with new restrictions imposed in 2018.


Advantage patients no longer have Medicare, since Medicare sold your policy to BCBS. You are now subject to BCBS deductibles and other limitations of coverage; if you had a BCBS group plan, you no longer have this same plan. If you have been given an Advantage plan, you receive 100% of ONLY THE MEDICARE APPROVED PROCEDURES after the required deductible and then with necessary coinsurance/copay. This can be personally good or bad for you. It makes no difference in anyone's chiropractic, because there is no chiropractic advantage. The private insurer would not purchased it if it was not to their advantage.

BLUE ADVANTAGE


ADVANTAGE PROGRAMS RESTRICT USE. IF ASKED, BCBS WILL TELL YOU THAT YOU CAN REQUEST MORE VISITS, BUT THIS IS BECAUSE THEY HAVE TO TELL YOU THIS. IN ACTUALITY, THEY ARE SO STRICT NOW THAT NOTHING IS APPROVED. WE ONLY GET FORMAL DENIALS REQUIRING THAT WE REFER YOU TO A MEDICAL SPECIALIST. WE NO LONGER PREPARE THESE LENGTHY DOCUMENTS FOR MEDICAL NECESSITY. WE'LL FILE UNTIL YOU ARE CUT OFF.

For 2020, I was told by BCBS that all Advantage have a limited number of visits even if it is not specified on the contract. It was 25 visits last year; BCBS told me it is 18 visits now. It's current contract spells out its chiropractic shortcomings (no exams, x-rays, therapies, or extremity manipulations by a chiropractor), the same restrictions are Medicare.

All advantage programs are controlled by the private insurer. Medicare has sold your coverage to a private carrier on the marketplace whether you like it or not. You have a whole new series of conditions. No where have we seen any advantage for chiropractic services. You may have much higher deductibles than Medicare's $150 and no further help than the 20% of only what Medicare covers, but it must be filed by the providers willing and able to carry this private carrier.
THEY ARE ACTUALLY COMPARABLY VERY GENEROUS ONLY IN THE MARKETPLACE WITH THEIR LIMITATION OF VISITS, SO LEARN TO COMPLY AND RESTRICT USE OF YOUR VISITS. THEY WILL ONLY PAY FOR ONE CMT SPINAL MANIPULATION PER VISIT. THE PROVIDER MAY REQUIRE OTHER SERVICES THAT ARE NOT PAID FOR BY YOUR ADVANTAGE INSURER.

DR. CRAFTON'S OPINION OF MEDICARE

"This Federal program and its bureaucratic empire is out to save money, make money from fines, intimidate, complicate and confuse, strain the physician and patient relationship, increase all medical costs, and thereby limit care just like any other insurance company or similar Federal program, but in this case, they monopolize the market, scapegoat for their own mismanagement, tax all people to pay primarily for themselves, others, and restrict freedom of choice. You are paying for the poor health choices of others, and allowing personal health insurance to escape from their pensionized responsibilities."

"Chiropractors, physicians of equal status by definition in every state of the union, have been working to receive full equity in Medicare and other Federally funded programs, programs paid for by the all American taxpayers, but I do not expect any significant changes, even though statistically government funded research overwhelmingly shows a significant financial savings with improved patient outcomes. Medicare is still "Medi" or "Medical only" care. Chiropractors who elect to see you, do so only at risk with a great amount of internal management costs for only a fraction of their overhead costs. Believe it or not, they do so out of their own pocket because they care about you, value our profession, and hope that someday they will be able to truly change the way we provide care to our seniors. They are naive."
"If you are the type of Medicare patient who believes that the Medicare system is a blessing, that drugs are necessary, that everything provided by a physician must be free, quick, expressed, and fast, and that you really do not want to play an active role in improving your health, please do not come here expecting our office to be designed around this Medicare model.

We recall when as young adults, people sought careers and jobs that came with lifetime pensionized health insurance. At one time these people did not need anything like Medicare, because they earned their pension and benefits often with years of self sacrifice in lower wages. Medicare has not always been around. In 1965 Truman, as a elderly man and past President, was the first man on Medicare; it was quite the media launch. Certainly, it has become something megalithic in comparison, "much more than anything you imagined."


Both my husband and I have Medicare, because it is forced on us. My husband earned out of state a full Blue Cross policy through his state educational retirement, but it no longer has equality with other teachers and now the state government calls the terms. Like many others, his entire pension after 30 years of paying into the system pays out only for the premiums just for his full retirement BCBS coverage that only went once toward the 20% of only what Medicare's approved for coverage after first meeting a $900 deductible; we, like many, eventually got dumped into an Advantage program.


This is what you get by being responsible and trying to prepare for your senior years! Alabama teachers are on their third private Advantage program; some just stopped coming, others continued, and those retired teachers nearing 65 have nothing chiropractically to look forward to."

"I truly hope that I will still be able to help you as I do other seniors. Thank you in advance for giving me this opportunity."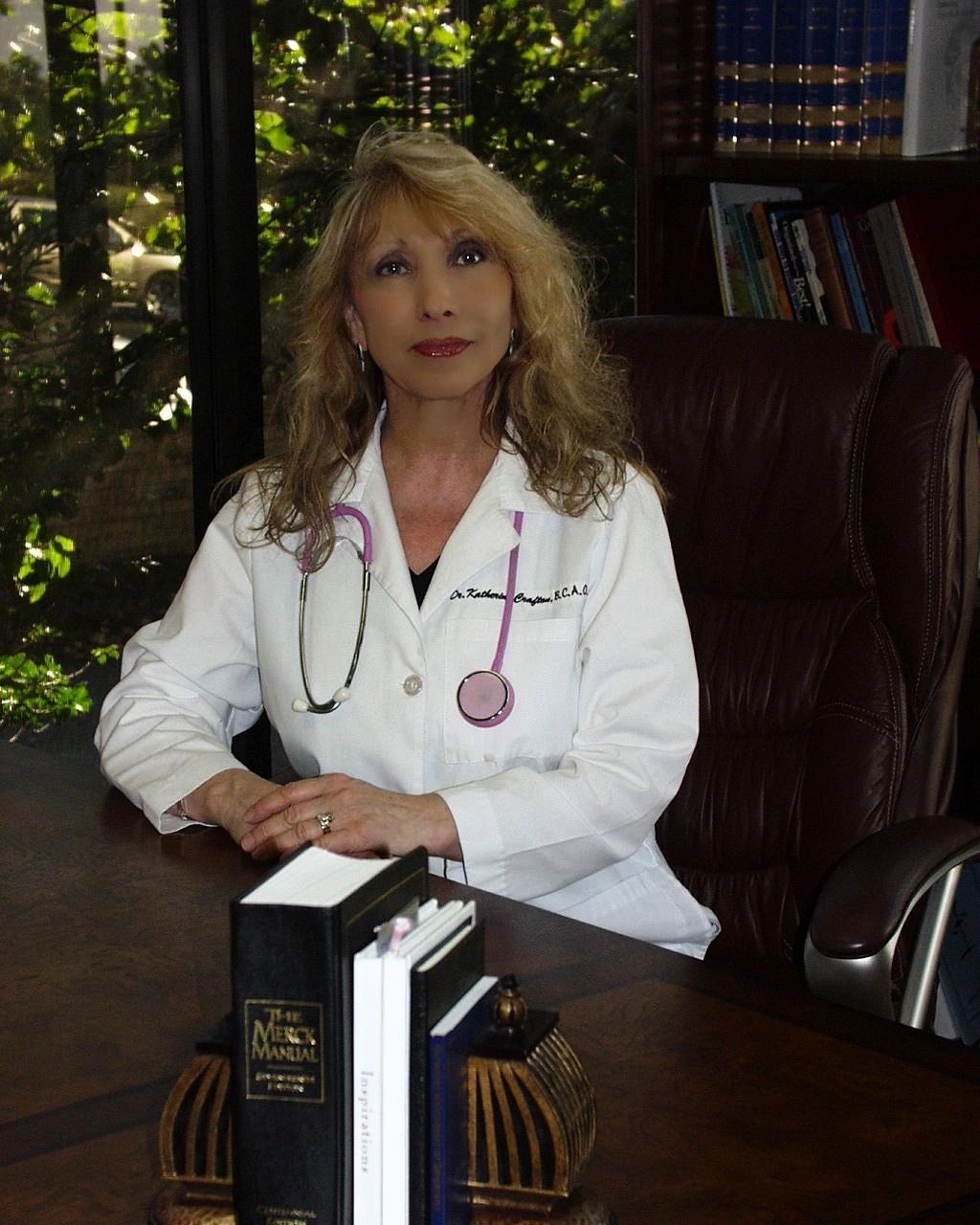 "
Dr. Katherine Crafton, D.C.